This past weekend I either didn't get much done, or got a lot done depending you how you look at it. Nothing really noticable as I am stuck waiting on parts. In normal times I wouldn't have time to work on all of the projects on my to-do list, but anything I needed I could order and have delivered within a couple days. Now I have plenty of time, but ordering is the problem.
I have several parts ordered that are on backorder with no real idea when they will arrive, and I need to have them here to test fit before I can weld in adjacent panels. So I am have to pause the tub build for a few days. I understand the delays are because everyone is working at partial capacity, but every day the estimated ship dates get a little further out.
Some things I am waiting on:
Drivers side wheel housing – Ordered 5 days ago and was supposed to be "Ready to ship". No tracking number or status updates on where it is.
Tailgate surround and taillight panels – It looks like Classic Enterprises is shut down until their state ends the stay at home order, which was just extended for another month.
Drivers side rear floor panel – This shipped from Nevada to Ohio in 2 days and has been moving between suburbs 30 miles from me for 5 days. Fedex says it is out for delivery today, but they said that yesterday as well. This is the 4th estimated delivery date they have provided.
So what was actually accomplished?
The important and time consuming task I completed last weekend was documenting stock measurements I need to assemble the new stuff.
I've seen all of these people with build threads on forums with their SketchUp diagrams and fancy 3d models of everything. So I give you my high tech pencil and graph paper diagram of my floor measurments. I was surprised that everything I checked seemed to be right on imperial measurements. No metric at AMC I guess.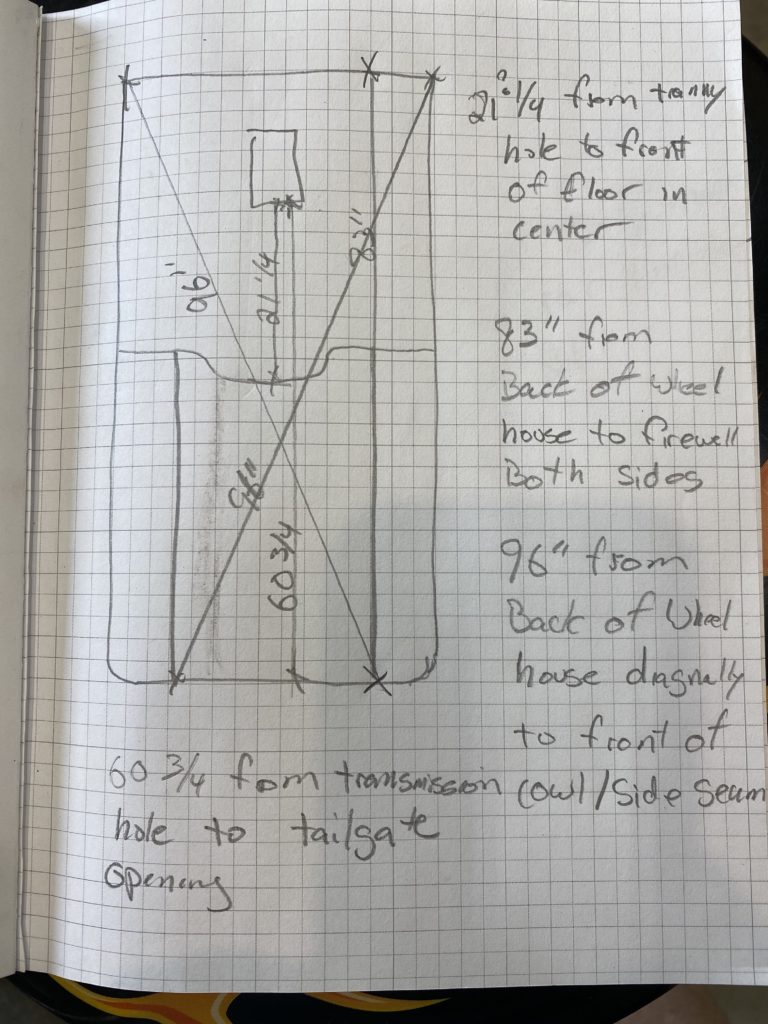 And I spent some time pumping up all the flat tires on the frame to 35 PSI so I could measure the height of all of the frame to body mounts. Not exactly precision, but better than trying to measure with 4 different levels of flat tires. The actual height measurement numbers are not so important, but their relationship to each other is. The rear bed crossmember needs to be 3 inches higher than the passenger area mounts.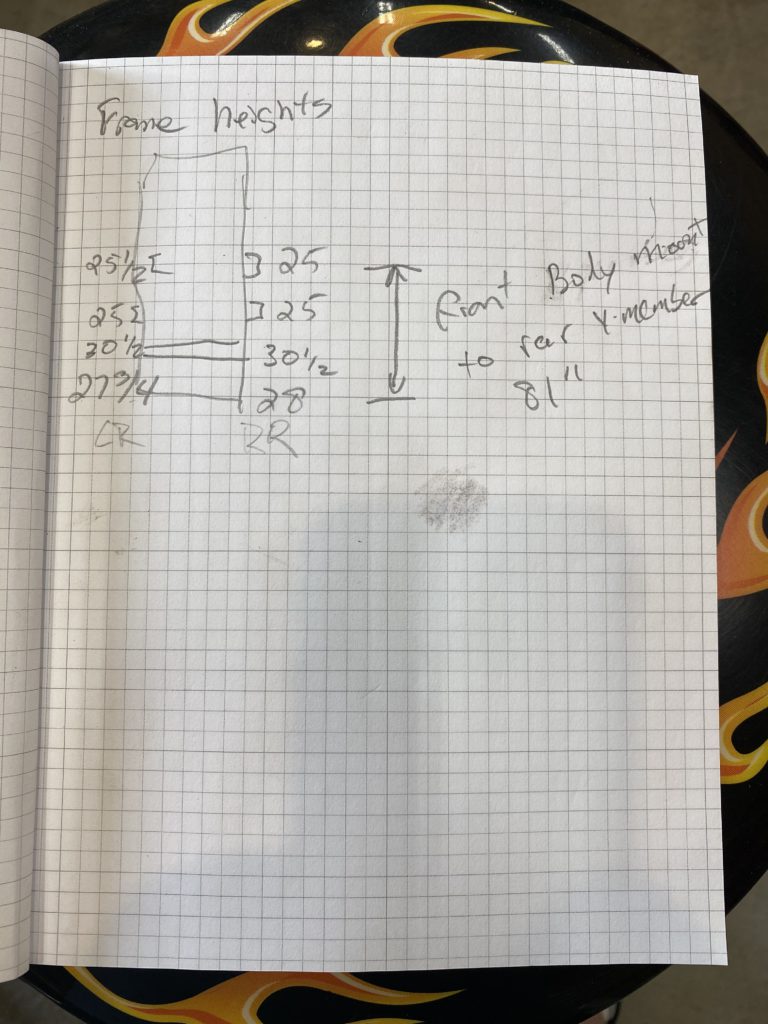 I also painted the firewall with POR-15 and forgot to take a picture.
Next steps
If the final floorpan arrives undamaged I will be able to complete the drivers side floorpan replacement and install the bed floor.
Beyond that? I might get the frame out and start figuring out what work it will need.